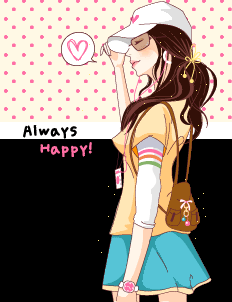 TENS

farah
coz tag sis.besh gak mlyn tag y dberi oleh membe2 blog tp besela cuma cpt @ lmbt je sy akn wat. besela bl bkeje, bz skit. kena siapkn keje dulu br leh online :D
here are the rules:-
1. List these rules on your blog.
2. Share 7 facts about yourself on your blog.
3. Tell 6 unspectacular quirks on yours.
4. Tag 7 people at the end of your post by leaving their names as well as links to their blogs.
5. Link the person who tagged you.
6. Leave a comment for each blogger.
7 facts about me:-
♥

i love graphic
n art ~ love so much
♥

i only have one sibling ~ my bro
♥

saya amat sayangkan kawan2 saya ~ love so much
♥

saya bermata 4 ~ lor
♥

saya lbh sukakan kaler terang
♥

saya amat teruja bl melihat baby :')
♥

saya suka benda @ barang2 y cumel2 & cute ~ i love cartoon
unspectacular quirks about me:-
♥

saya x suka sp0rt kecuali acara padang & badminton ~ 2 saya mcm d0raemon :D


♥

saya x suka d anggap sbgai ank bongsu ;D


♥

saya takut pd tikus termasuk kaum kerabatnya,"hamster" kecuali mickey n minnie :P


♥

saya akan lbh rajin stdy @ siapkan "work" bl sy sedih


♥

saya akn mbaca magazine,comic,novel @ etc bmula dr blkg ~ kecuali paper exam!!!


♥

saya lbh suka makan laksa dgn kicap ~ pelik?? tp benar

7 people to tag :-
- wizza
- bungaditepijalan
- karina
- nurulhuda
- eedany
- nano
- onniey